Meet GLOW - Collagen + Herbs
GLOW Collagen + Herbs formulation is the perfect mix of hydrolyzed Canadian wild caught marine collagen, and herbs that naturally help your body absorb and produce collagen.
Formulated with camu camu berry, nature's richest source of whole food vitamin C, this essential vitamin is crucial for the synthesis and maintenance of collagen. Also included in this formulation is horse tail powder (Equisetum arvense) for its bone supporting minerals and rich silica content.
Naturally sweetened with nutrient-rich lucuma powder, GLOW is the perfect addition to your morning coffee, smoothies, elixirs or even baked goods.
Our Collagen is a good source of essential amino acids important for maintenance of good health, including lysine which is crucial for collagen formation. Learn more about GLOW
Ingredients Are Everything
Your health is important, and that starts with what you put in your body. That's why our blends are made from organic hemp protein powder and beautiful nutrient-dense herbs. No added sugar. No artificial sweeteners. No fillers. Just pure organic ingredients.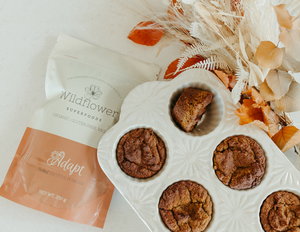 Adapt Pumpkin Muffins
Nothing says fall like a little pumpkin spice, and these beauties are full all things nice. Protein, adaptogens, warming spices and a little pumpkin, these muffins have no refined sugars, are gluten free and just simply delicious.
Make It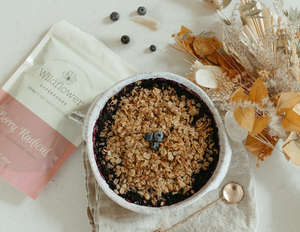 Radical Berry Crumble
There aren'ta lot things that smell better that a crumble baking in the oven. This easy to throw together crumble is full of protein, antioxidants and vitamin C. It makes for a delicious dessert or an easy breakfast, topped with a little coconut cream and fresh blueberries.
Make It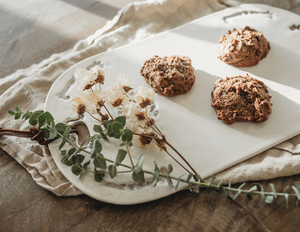 Tahini Superfood Cookie
We love finding ways to bake delicious treats that satisfy that sweet tooth without all the yucky ingredients. Plus, it's a great activity to do with a toddler (if you've got the patience).
Make It
"As a holistic nutritionist, nothing matters more to me than the quality of the ingredients. You can't get a cleaner, more nutrient dense product than this. I also love that these protein powders are completely free of any added sweetener-something I really dislike in other products. Another bonus, using these herbal protein powders has really simplified my morning smoothie routine! I love adding things like spirulina, hemp seeds, and raw cacao powder, but now I don't need to unpack the whole pantry!"

Diane, Insightful Bite
"These taste incredible and I've noticed an increase in energy. I am mindfully eating and paying attention to my health with the help of these delicious powders. So far I've baked with them and made smoothies. The best part is my kids have gobbled everything up. Perfect for keeping healthy this cold & flu season."

Kayla
For many years I have been on the look out for a plant based protein powder that doesn't feel chalky or taste too earthy to eat on its own, without disguising the flavour. But then I found Wildflower Superfoods and I am thrilled to enjoy an organic, gluten free and vegan protein powder that is actually tasty! I first tried the Mighty Maca and it stands as my favourite (I'm always bent towards anything chocolate-ish!), but I recently tested the Berry Radical and enjoy the taste, too. So far my favourite ways to use these powders are in oatmeal, smoothies and yogurt bowls, and I love that I can mix them into foods for my kids! My 11 month old eats them up and my 3 year old daughter actually asked for "Miss Kate's powder" when I forgot to add it into our smoothie! Grateful for solid ingredients I feel good eating, and so glad I found Wildflower Superfoods!

Bonnie L, Personal Trainer